New CEO Appointed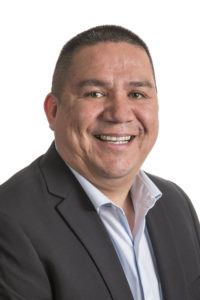 LutherCare Communities Appoints Gabe Lafond as New Chief Executive Officer
After an in-depth professional search process that spanned several months, LutherCare Communities Board of Directors is pleased to announce the appointment of Gabe Lafond as the new Chief Executive Officer effective September 2, 2020.
Mr. Lafond is Métis and was born and raised in Green Lake, Saskatchewan.  He brings many years of diverse experience with over 20 years of professional experience in senior leadership positions in Government and the non-profit sector.  Most recently, he was the Executive Director, First Nations and Métis Health within the Saskatchewan Health Authority (SHA) and held the position of Director for the Representative Workforce and First Nations and Métis Health for the former Saskatoon Health Region for eight years.  Mr. Lafond has dedicated his career to building meaningful relationships and in serving our communities.
Mr. Lafond began his career working for the Métis Nation- Saskatchewan (MN-S) as Director for Métis Employment and Training and was elected as MN-S Treasurer from 2007 to 2010.  He stepped down in 2010 to run as a Member of Parliament for the Federal Liberal Party.  Mr. Lafond also worked for the Department of Canadian Heritage as a Program Officer under the Urban Multi-purpose Aboriginal Youth Program.  Mr. Lafond also has extensive experience in public health policy and program development as well as working with the private sector, unions, and Federal and Provincial governments.
For several years, he has voluntarily served the community through work with the Saskatoon Aboriginal Employment Partnership and the Saskatoon Chamber of Commerce Aboriginal Opportunities committee with a focus on improving the health and well-being of others.  Mr. Lafond takes great pride in his accomplishments for Indigenous communities and organizations he represents. Currently he resides in Saskatoon with his family.
"Throughout my career, it has become very clear to me the importance of creating a safe and compassionate space for people by utilizing a holistic approach that focuses on the physical, mental, emotional and spiritual aspects of an individual and their families.  I believe this can be accomplished by working closely with our residents, clients, their families and our dedicated staff and I look forward to this new and exciting opportunity."  – Gabe Lafond
We are pleased to have Mr. Lafond join LutherCare Communities' administration.  We look forward to his leadership and guidance as we build on the history of quality of care offered throughout the organization.
Contacts:
Ben Nussbaum, Chair
Board of Directors
LutherCare Communities
306.955.8890
Nicole Semko
Manager of Fund Development & Communications
LutherCare Communities
306.664.0316